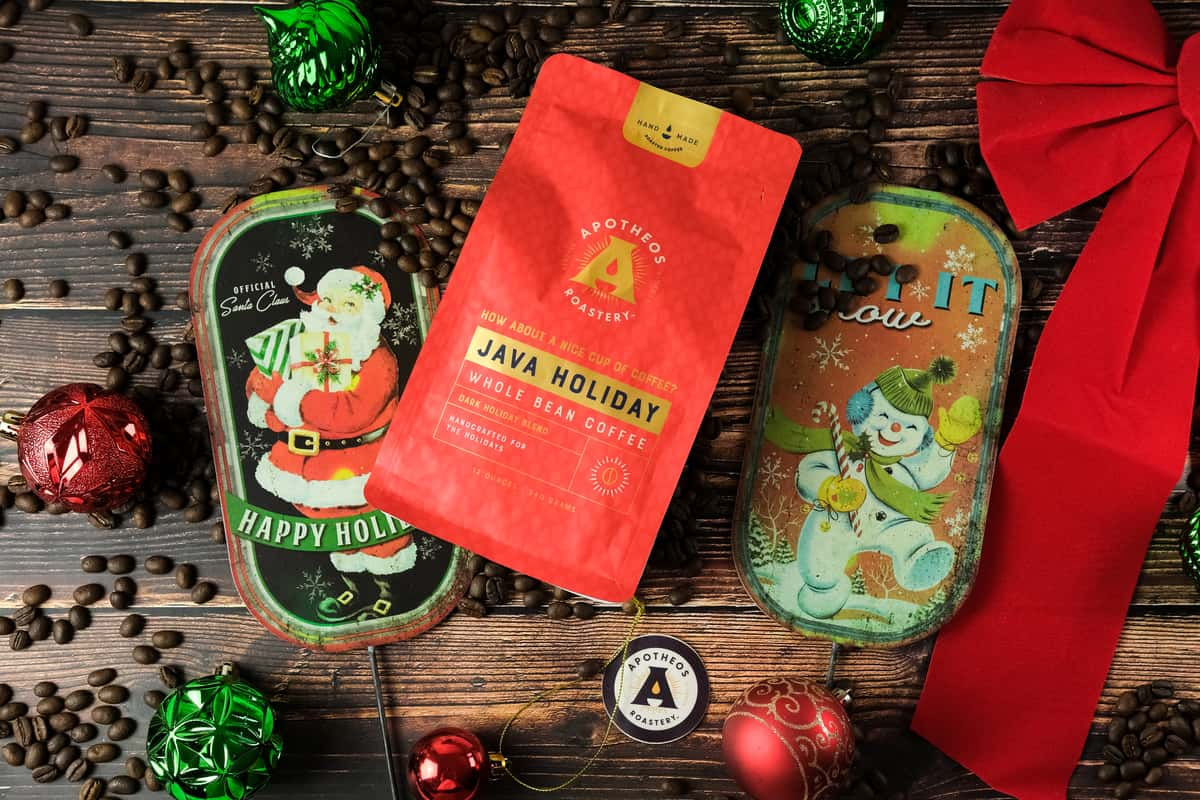 Apotheos Holiday Gift Guide
Apotheos Holiday Gift Guide
Believe it or not, the holidays are once again upon us. So if you're looking for the perfect gift to get the coffee lover in your life, we've got you covered. Whether they're an expert-level connoisseur, or just discovering the art of craft coffee, the following gifts are sure to please.
Hario Ceramic Coffee Dripper ($25 on Amazon)
If you're looking to make pour-over coffee, the Hario coffee dripper is your best bet. But be sure to buy unbleached coffee filters, since the bleached kind can add some undesirable flavors (or toxins) to the brew. Just remember that the key to making pour-over coffee is using water of exactly 205 degrees Fahrenheit, which is why you might want to buy your coffee lover the electric kettle mentioned below. And for best results, use either the Maelstrom or Beacon blend from Apotheos.
Cosori electric gooseneck kettle ($70 from Amazon)
This digital kettle is perfect for tea drinkers as well as pour-over coffee lovers. Sleek and shaped like an old fashioned copper kettle, this gadget does far more than simply heat water. The Cosori allows you to set a specific temperature for your water, which makes it ideal for use in pour-over coffee, where the proper 205 degree temperature is key. Plus, its gooseneck spout allows you to coat your coffee grounds evenly. It's no wonder this kettle became an Amazon bestseller overnight.
OXO Conical Burr Coffee Grinder ($95 on Amazon)
The Apotheos team is happy to grind coffee beans for you or the person you're gifting, but if you'd rather receive fresh-roasted beans to be ground at home, the Conical Burr Coffee Grinder is the way to go. Its competitors often grind beans horizontally, which causes friction and, as a result, applies some heat to your beans, gratuitously roasting them further. But the conical grinder, being shaped like a cone, uses gravity to drop the grounds directly into the lower compartment without applying heat. (See here for additional comparisons between the conical and flat varieties of coffee grinders). Best of all, this skinny grinder takes up little counter space, and is easily stored before and after the holiday party.
BruTrek Travel Coffee French Press ($50 on Amazon)
If your coffee lover isn't interested in pour-over coffee, they might prefer an awesome, transportable French press by BruTrek. The versatile design allows you to brew 20 ounces of French press coffee, and doubles as a portable thermos. The best part is that it has a removable base to optimize cleanup (arguably the most annoying part of a French press). Best of all, the BruTrek is handsomely designed and comes in four colors.
Flair Espresso Maker Pro ($325 on Amazon)
Yes, this gift is on the pricier side, but if the coffee fiend in your life just loves an espresso drink and you need to make an impression, this is the right gift. While the big electric espresso machines you see in coffeehouses will set you back about a thousand dollars, the Flair lets you make delicious espressos for a fraction of the cost. Plus, while a traditional espresso machine takes up more space than a microwave, the Flair Espresso Maker takes up hardly any countertop real estate. In short, the Flair is a manual espresso press, with a lever and small compartment for ground coffee. We recommend using the Apotheos Espresso Blend, or the Genesis Blend for a more traditional taste.
Toddy Cold Brew Coffee Maker ($54 on Amazon)
If you can't get your hands on a can of Apotheos original cold brew, homemade is the next best thing. And Toddy, the originators of the cold brew system, still holds up as the best at-home kit. This coffee maker comes with a plastic tank for steeping coffee grounds in water, and a glass container that affixes perfectly to the tank. Once the cold brew concentrate is ready, the liquid can be drained directly from the tank into the glass, ready for you to add water, ice, cream, or whatever you enjoy with your iced coffee.
Java Holiday – Apotheos specialty coffee ($15 on our site)
Finally, our signature Christmas-time coffee blend is a perfect stocking stuffer with or without the fancy gadgets. Decked with nostalgic yuletide tasting notes like chocolate, fruit, and spices, Java Holiday has been a favorite since its inception. Even the bag screams holiday cheer.
Whether you drink your coffee hot, iced, or blended with foam, the whole team at Apotheos hopes you have a happy and healthy holiday!