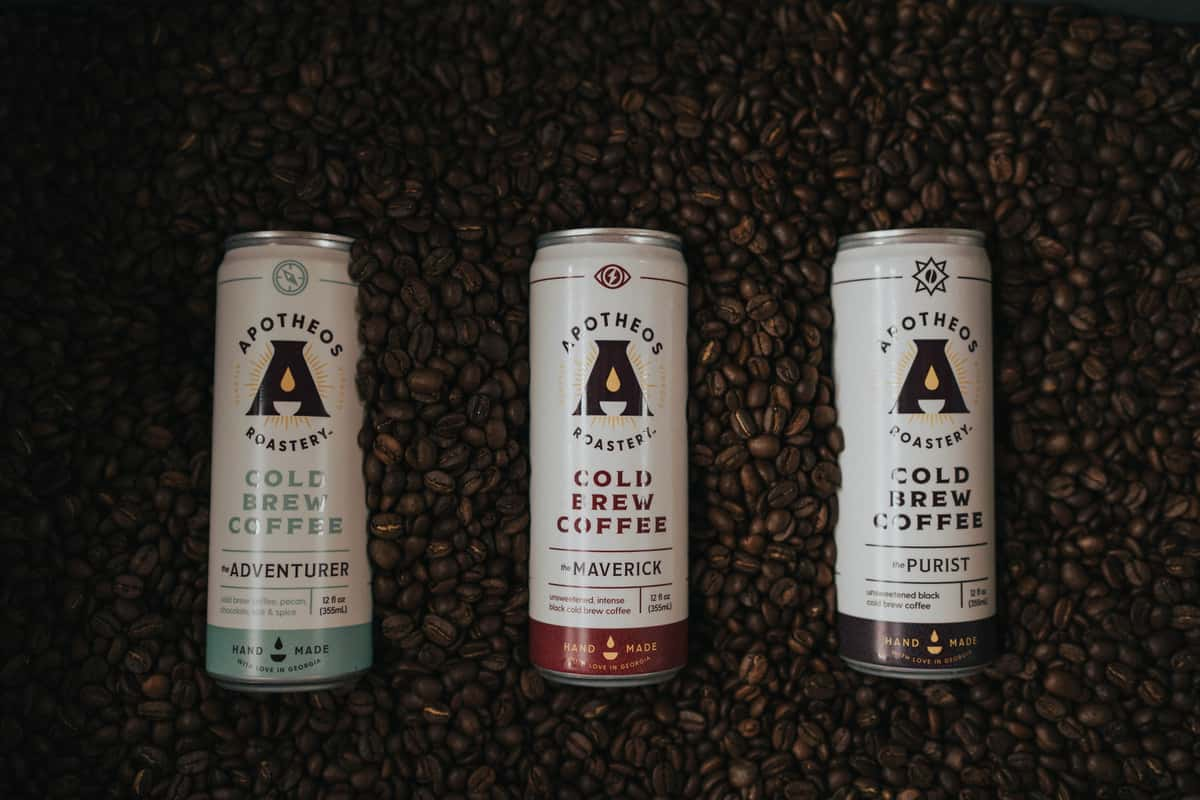 COLD BREW COFFEE: WHAT YOU NEED TO KNOW
COLD BREW COFFEE: WHAT YOU NEED TO KNOW
It's summertime in Atlanta, which means long, muggy days, hot nights, and refreshing glasses of cold brew coffee. Sure, hot coffee hits the spot any time of year, but nothing beats the summer heat like the rich punch of cold brew.
For the casual coffee drinker, cold brew is a phenomenon that's only peaked in recent years. Throughout the 2010s, the big chains replaced their watery iced coffee with the real stuff, packed with caffeine and deep, irresistible flavor. But for coffee experts like us, cold brew has been a tool in our kit since the 90s.
So what exactly makes this iced treat so strong and so satisfying?
The Cold Brew Process
The first thing you should know is that at Apotheos, we would never just pour drip coffee over ice and call it a day. That kind of watered-down mess is a cardinal sin in our coffeehouses. Instead, we abide by a cold brew process, which takes several hours to produce, but is worth every minute.
The first time I ever heard of the cold brew process was in 1994, when a salesman from the Toddy Company came into our coffeehouse in Vinings. "All you do is grind your coffee coarse," he told me, "soak it overnight in room-temperature water, filter out the grounds and pour it over ice. That's it!"
It was a winner from the first time I tried it. After soaking for 12-24 hours, the flavor and caffeine of the coffee grounds make the water dark and chockful of flavor. But unlike hot coffee, cold brew has no acidity. That was a sticking point for my mom, one of the first lucky tasters of the new brew. "It's perfect," she told me, after I'd poured it over ice and added a little milk for her. In spite of her immediate enthusiasm, we were still years away from perfection.
The Coolest Drink in Town
In the time that followed, cold brew became a sort of cult hit at our coffeehouses. Another decade would pass before iced drinks outsold our hot coffees, but they quickly developed a dedicated following. And the truth is, many of our customers helped us perfect our now-iconic beverage.
Some wanted it over ice, some wanted it straight, some wanted to add milk, some wanted to add water, some asked for vanilla flavoring while some suggested caramel. All of these customizations helped us figure out the brew's ultimate potential.
At the same time, we were also crafting another signature refresher, which we call the Special Blend. Anyone in the Atlanta area knows that Special Blend is a mix of espresso, milk, and our homemade syrups, served over ice. I think of it like an adult Yoo-hoo—so sweet and delicious, you can toss it back in one gulp.
Slowly but surely, our cold drinks were inching up the menu, ultimately becoming the most in-demand options. But cold brew really hits its stride with the addition of Nitrogen.
Coffee that Pops
Here in the Coca-Cola capital, we love our bubbly beverages. From the zing of spiked seltzer to the fizz of a cold beer, we want our drinks to have texture in addition to taste.
In recent years, we've been able to zing our cold brew coffee by adding millions of tiny bubbles through the use of food-grade nitrogen. Nitrogenizing cold brew coffee truly brings it to life combining a palpable mouthfeel and a delicious creamy flavor. Stop by one of our coffeehouses and we'll top it off with a dollop of cold cream, a sweet homemade froth that makes our cold brew a one-of-a-kind treat.
Last year, we opened our Kennesaw roastery in order to can our cold brew and share it with the world. On the canning line, we infuse nitrogen directly into the coffee seconds before sealing the can. This ensures that as soon as our fans crack open a canned brew, it will have the same creamy mouthfeel as a cup we'd serve in-house.
What's Brewing Next?
Cold brew coffee has come a long way since we first introduced it as a novelty item. These days, you can find it in basically any coffeehouse or big chain store. The result is a generation of young coffee fiends, like my teenaged daughter Cali, who exclusively drinks the iced stuff. Unlike her grandmother, Cali drinks it black.
But at Apotheos, we're never satisfied with good enough. That's why we're always looking for new ways to serve the classics. Currently, our canned cold brew comes in three varieties: Purist, which is straight black coffee with a little added nitrogen; Maverick, which is a little bolder and less sweet; and Adventurer, which we've flavored with cocoa nibs, pecans, and a little cayenne pepper.
So what's next? Keep your eyes peeled to our website, as we have two more varieties coming soon: Horchata and Caramel. Whether you're in the neighborhood, or are part of our larger online community, there's no better way to treat yourself this summer (or year round) than with a cooling glass of cold brew.
-Doug Bond